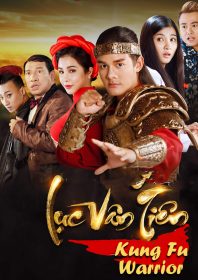 Dedicated to the 'golden age of kung fu action cinema' – it's written in the credits – this is Andy Long's love letter to the Jackie Chan movies he watched as a child in Germany, inspiring him to study martial arts, grab a camcorder, and attempt to make it in the movies. Andy – now a top stunt coordinator and distinguished member of the JC Stunt Team – displays the full scale of his devotion to the art of action with this low-budget Vietnamese indie. He not only stars in the film, but he is also the executive producer, editor, second unit director and fight coordinator. When he's not doing that, he can be seen doubling some of the other actors, and performing the sort of high-falls and crazy stunts that Jackie used to do in his prime. He figuratively – and literally – throws himself into all aspects of this production and, as you would rightly expect, the fight scenes are exemplary; an amazing distillation of Hong Kong-style fight choreography at its finest, performed by a string of stunt performers with a similar devotion to the classics. There are clearcut slapstick routines – one involving a running gag with the Martial Club boys (brothers Andy Le and Brian Le) – which runs a direct line from Jackie Chan to Charlie Chaplin; a wonderful slice of acrobatic showboating which sees Andy in a circus setting leaping through hoops; and a barnstorming two-on-one finale with blistering boot-masters – and brothers – Lorenz Hideyoshi and Felix Fukuyoshi.
The action is faultless; but other aspects of the film are less competent. Inspired by an epic 19th century poem, its an ambitious undertaking for a debut feature: a time-traveling romantic comedy told through the ages, in which the warrior prince, Luc Van Tien (Andy Long), descends from the heavens in full regalia into modern day Vietnam on a quest to reunite with his true love. He attracts a crowd of onlookers, one of which is Teo (Hữu Tiến), who is a bit of a dick, befriending him because he sees an opportunity to make money. There follows a sort of Encino Man situation where the frozen-in-time Luc Van Tien stays with Teo and struggles to adjust to the wonders of the new age: toilets, electricity, television and so on. Instead of finding his true love, Luc mistakenly rescues a different woman sharing her name, Nga (Kim Tuyến), who has been kidnapped as part of a sex trafficking ring in a subject not particularly known for its comedic potential. She is rescued by Luc and Teo from an arranged marriage, only for Teo to then force himself upon her (remember this is still a comedy), before he takes her home to meet his blind dad, who almost gropes her. And yet, for some reason, Nga stays with Teo, and the two form a close relationship – weird! Luc does find his true love eventually, a different Nga (Diep Lam Anh), who is working as a teashop owner with a side-hustle in supplying women for the same sex traffickers. She has a moment of clarity before she too needs to be rescued.
At nearly two hours, the film feels baggy, and spends far too long on characters and side-plots that don't seem to go anywhere. As for the comedy, many of the bigger laughs land far better during the action scenes. Andy Long carries it well – his more subtle central performance is a beacon of calm in an otherwise nutty storm – and if you can forgive the film's broad strokes, it is still an admirable showcase for Andy and his whole team.
AKA: Luc Van Tien: Kung Fu Hustle; Luc Van Tien: Tuyet Dinh Kungfu.
Watch on Amazon Prime (USA); Amazon Prime (UK).