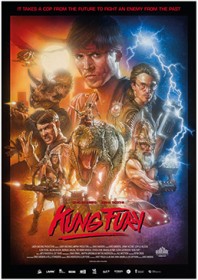 Swedish filmmaker David Sandberg's retro-futuristic 1980s cop movie spoof was a huge international hit before it was even released. He used his own money to make the initial trailer, casting his friends in key roles and filming in front of a green screen in his office. The trailer became such a huge viral smash that when he decided to launch the concept for a 30-minute film version to backers on the crowd-sourcing website Kickstarter, Sandberg tripled his target of US$200,000 in less than a month. Created as an homage to the action movies he loved as a child, Sandberg's spoof would eventually debut to widespread acclaim at the Cannes Film Festival in 2015, and within three days of appearing on YouTube, the film had racked up over eight million views. Kung Fury is a bona fide, community-driven online phenomenon which accurately highlights the creative and commercial opportunities afforded to anybody in the world with a strong vision and great talent.
It doesn't take long to realise that Sandberg – who also stars in the film as the titular hero with all the knowing, deadpan bravado of Charlie Sheen in Hot Shots! – has both of these things in abundance. The title card at the start reads "Miami, 1985", but we're actually inside the worn-out VHS tape of Sandberg's vivid imagination. His computer-animated world touches on just about every cult cornerstone of the 1980s: arcade games and tape decks, 8-bit soundtracks and hair metal, He-Man, Conan, Tron, The Karate Kid, and the kind of American B-movies studios like The Cannon Group used to make. The martial arts elements aren't entirely superficial, either. During a protracted CGI-laded fight sequence, Sandberg proves himself to be no slouch when it comes to the physical stuff. And then, just when the film couldn't feel anymore eighties, David Hasselhoff turns up to sing the theme tune.
But this is not merely an exercise in nostalgia. The comedy is irreverent, absurdist and feels very modern, closely aligned to prominent TV hits like Danger 5 in Australia or Garth Marenghi's Darkplace in the UK. Particularly the former, which shares a common enemy in Nazi Germany. The character of Kung Fury is introduced via an epic fight scene with an out-of-control arcade game which spontaneously sprouts limbs and guns and starts attacking people. Kung Fury saves the day by riding on the outside a hurtling sports car with guns blazing. The supercop – who received special kung fu powers after being struck by lightening – is needed to thwart the reemergence of Adolf Hitler (the "Kung Fuhrer"), who shoots up police headquarters by firing bullets down the phone line. Kung Fury is sent back in time via a computer hack to 1940s Germany to kill Hitler, aided by a bizarre ensemble which includes Thor ("your pecs are epic"), a T-Rex and a cop with the head of a dinosaur.
It's bonkers, and unashamedly so. It remains to be seen whether the film's hyperactivity could sustain a feature-length version. But certainly on the strength of its half-hour form, Sandberg's project is a giddy and delirious delight.