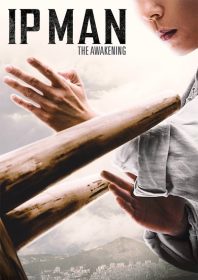 Another DTV Ip Man spin-off, which follows very similar straight-to-streaming efforts like director Li Liming's double-bill of 2019's Ip Man: Kung Fu Master – in which Dennis To returned to the titular role – and its 2020 prequel, Ip Man: Crisis Time, plus Fu Li-wei's 2019 film, Ip Man and Four Kings. Miu Tse (the wushu kid from the 1990s Jet Li classics New Legend of Shaolin and My Father is a Hero) plays Ip Man as an impulsive young wing chun expert and academic who relocates from Foshan to the bright lights of British-owned Hong Kong in the early 1900s. He buddies up with a fellow Foshan migrant, Feng (Chen Guan-ying), who knows the ways of the street through his work as a rickshaw operator, living a life of communal bliss and borderline poverty in a weirdly rose-tinted vision of Hong Kong during a time of great oppression and corruption. The Brits are shown to be a powerful force, bullying the local police who turn a blind eye to their human trafficking operation. They are also revealed to be experts in the Victorian martial art of Bartitsu (Sherlock Holmes' martial art of choice, according to the original Conan Doyle books), which comes in handy when Ip Man storms in to bust up their operation. He may be a great fighter, but the hotheaded Ip Man still clearly needs to learn some wisdom (this is the 'awakening' which is referenced in the title) before his actions threaten to engulf the entire community. This is far less interested in being an Ip Man story than it is being another idealistic excuse for some good, old-fashioned Brit-bashing. Ip Man is once again recast as a postmodern, anti-establishment figure fighting for the protection of Chinese identity and values. Miu Tse is not a traditionally handsome lead, but he moves wonderfully during the sharp action scenes, which are captivating, if a little over-edited. Probably the best Ip Man film to deal with this time period is 2010's The Legend is Born: Ip Man, which focused more on his development as a martial artist. This is definitely cheap fodder and completely throwaway entertainment, but there are also far worse ways to spend 77 minutes of your time.
Ip Man: The Awakening is out now on digital, Blu-ray and DVD in North America courtesy of Well Go USA.
AKA: Ip Man: The Awakening Master (original title); Ip Man 6: The Awakening.