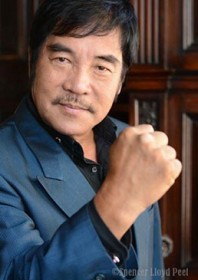 In a film career spanning over two decades as the archetypal go-to bad guy, Hwang Jang-lee kicked out Jackie Chan's teeth and wore some of kung fu cinema's most elaborate hairdos. Then he disappeared. So what happened? We meet the world's original bootmaster to find out.
If there was ever a performer who best encapsulated maniacal villainy during the golden years of kung fu cinema, then it was the inimitable Hwang Jang-lee. In his debut Chinese feature, The Secret Rivals (1976), he set the template as the wizened Ming dynasty bandit Silver Fox, complete with furrowed brow, long white locks and matching beard. He embodied the bloated aristocracy, oppressive overlords, corrupt officials and tyrants who persecuted the weak and exploited the poor – perpetually cast (or, rather, typecast) as hard bastards who spent their time accumulating wealth and power, whether to protect their own position or their bodies from physical attack. As the traitorous imperialist in Invincible Armour (1977), not even swords can harm him. As the cunning Eagle Claw fighter in Snake in the Eagle's Shadow (1978), he manipulates the young and impressionable hero – played by Jackie Chan – into unearthing the whereabouts of his own master.
Being of Korean descent, he was the ubiquitous outsider of Hong Kong cinema who moved with an alien poise and intensity. At his disposal, a legacy of trademark kicks. Long before John Liu, Dorian Tan, and their future emulators – people like Tony Jaa and Scott Adkins – the term 'bootmaster' belonged to Hwang Jang-lee. His physical dexterity, honed from a background in Taekwondo, meant he was capable of unique, gravity-defying kicks, regularly slowed down on film to savour the agility of his movements and the satisfying moment of impact. Directors used Hwang's kicks in an almost fetishist display of pugilism. His influence in kung fu movie circles was vast. When Jackie Chan returned to his most famous kung fu film for the sequel Drunken Master II (1994), he employed Ken Lo to play a high-kicking villain in tribute to the franchise's original baddie – the deadly 'Thunderfoot', played, inevitably, by Hwang Jang-lee.
In over 60 film appearances, he went toe-to-toe with the likes of Sammo Hung, Cynthia Rothrock, Moon Lee and Michelle Yeoh. Then, in 1996 – after over two decades in the film industry – he disappeared. Rumours abound as to where and, crucially, what he had been doing in the years that followed. In the 1990s, sudden exits from the Hong Kong film industry were not uncommon. Many actors – Brigitte Lin, Cherie Chung, and even Michelle Yeoh for a few years – went from huge stars to disappearing acts. It was widely agreed that Hwang Jang-lee had moved back to his native Seoul. Then there were rumours as to the specifics of his new business ventures, each more curious than the next. One claimed he had opened a hotel. Then there was talk of him running an agency for bodyguards. The most abstract career move I remember reading was on the liner notes of an Eastern Heroes VHS, which claimed Hwang Jang-lee had turned his back on the film industry to open a factory manufacturing golf tees.
So it was with a sense of incredulity that I heard the news that not only was the reclusive Hwang still very much among us, but that he would be travelling to the UK to hold a seminar at the annual SENI martial arts expo. A week later and I am sat across from him in the plush surrounds of a London hotel. Now 69, he sports calloused knuckles and looks to be in incredible shape. You would put him at middle age rather than a man in his dotage. He is smaller than he appears in his films, and laughs incessantly between answering in broken English (throughout our interview he is joined by an interpreter). It's not quite the picture I was expecting from his snarling movie persona. He is open, engaged, and given this is his first visit to the UK, clearly flattered by his western appeal. Then it suddenly dawns on me: where the hell has he been for the last 20 years, and why has he left it so late to tell his story?
"Because he had been living in Hong Kong for quite a long time, it was too much," he says via a translator. "He wanted to go back to Korea. In the beginning, he did make more films, but he also owned a lot of business industries." Ah, the golf tee story! So was that true? "Yeah, yeah, I stayed and make the golf tee," he says smiling. "I followed a company in America, and they buy my golf tee, and I had that business for a long, long time." Did you make any money? "Hmm… not so much!" He laughs again. So what about the hotel? "Hotel – yeah! First time it was a good business, but afterwards, not so good [because] I'm not there! Someone else take care of it. That was the problem." Given how candidly he speaks, I figure I might as well ask him about the bodyguard agency. "That was for a short time," he says. "I think, 'it's not so good', so it closed."
Of course, Hwang hasn't been completely absent from our screens. In recent years he has been enjoying something of a renaissance. In 2009, he appeared in a Korean TV series called The Return of Iljimae. It marked his first screen appearance in 13 years. The move sparked a reappraisal of his career among kung fu movie fans, particularly in the west, which prompted the American filmmaker Jon-James Hodson to make his 2013 documentary, The Anonymous King. This 60 minute film sees Hodson unravel the myths surrounding Hwang's disappearance from the film industry and tracks him down to his home in Seoul to discuss his life and career.
"In Korea, they think I'm Chinese, not Korean," he laughs. "Even now, too! It's very strange, you know. 'You're not Chinese?!' 'No, I'm Korean!' They seem surprised. Because when I was young, I spent a lot of time in Hong Kong, I think over 20 years I lived there, so [to them] I'm just… Chinese." This notion of displacement – even among his countrymen – has been a common theme throughout Hwang Jang-lee's multifaceted life. He was born in Japan in 1944, where his father worked in the shipping industry. His family were forced to return to their native Korea following Japan's defeat in the Second World War. He first started training in Taekwondo at the age of 14 and soon progressed to 7th dan black belt. In the early 1960s, Hwang was conscripted into the Korean army where he spent years teaching martial arts to the troops for use in real-life combat situations. He taught in the famed Tiger Division of the Korean army, which supported the South Vietnamese during the Vietnam War. Later, on film sets, Hwang would obtain a certain notoriety for not holding back during the fight scenes. He famously (and accidentally) kicked out one of Jackie Chan's teeth during the filming of the climactic fight scene in Snake in the Eagle's Shadow.
"All actors pretended to do martial arts. But I am a real martial arts actor. I didn't pretend to do it," he says. "These days many young actors search on the internet for the martial arts and they borrow the martial arts – it's not real. When they make a film, sometimes when there is a demonstration they use a rope for effect, but [the audience] notice very quickly if it is real or it is fake. While I'm making a film, doing martial arts with wires [caused me] a problem, because I cannot control myself. It's not convenient. It's not real."
Hwang was well placed to capitalise on the 1970s kung fu movie boom, and to supplement his career as an instructor, he started appearing in a number of small-budgeted Korean fight films. He was soon discovered by the highly influential Hong Kong producer Ng See-yuen, who was filming in Korea after leaving Shaw Brothers to start his own company, Seasonal Films. Hwang Jang-lee's first film for Seasonal, The Secret Rivals (1976), highlighted his superb kicking abilities and he became an overnight star in Hong Kong. Ng had to personally fight to keep Hwang in the country after being questioned about his work credentials. Ng, in conversation with Bey Logan in his book Hong Kong Action Cinema, described how immigration officials questioned him as to why he couldn't use a local actor for the role, to which he replied: "You get me someone local who can kick like him and I will."
Ng would continue to cast him as the villain in many of his best films over the next decade, including more John Liu helmers like Snuff Bottle Connection (1977) and Invincible Armour, the Jackie Chan films Snake in the Eagle's Shadow and Drunken Master (1978), the official Drunken Master sequel Dance of the Drunk Mantis (1979), the bizarre Bruceploitation thumper Game of Death II (1981), and Hwang's only English-language film, No Retreat, No Surrender 2: Raging Thunder (1988), opposite Cynthia Rothrock. Does he have a favourite?
"Drunken Master," he says, without hesitation. "It was really interesting. I was proud of myself [in the film]." It's a bone fide classic, and well deserving of its place in the kung fu movie hall of fame. But did he know he was making a masterpiece? "I believed it would be widespread," he says. "In the company [Seasonal Films], he [Jackie Chan] was already signed and they had to make a film together. I had never heard of him. Drunken Master and Snake in the Eagle's Shadow – that's when I knew Jackie Chan and Yuen Woo-ping. Yuen Woo-ping tried very hard to think about how to control the fight. He was always thinking. Yeah, [he is] one of the best."
His performances in both Snake and Drunken Master were career defining and opened the door to many similar roles. But was he not concerned with always playing the bad guy? "I wanted to be the bad guy!," he says. "In the film, the bad guy can dress up [and look] very rare and good looking. The good person in the film, they dress like a beggar – a poor person."
Tellingly, however, when the opportunity came to produce and direct his own movie – the brilliant Hitman in the Hand of Buddha (1981) – he removed the silver wigs, shaved off the beard and cast himself as the hero. He even expanded into slapstick routines as a kung fu pauper opposite beggar sifu Fan Mei-sheng. "I was always acting, so I understood film, and the feeling, so it was easy as a director. But I had to take responsibility for the film, because the director's name is my name. And I am from Korea!"
Although Hwang adjusted naturally to the quick pace of Hong Kong fight choreography, he says he took time to adjust to the food, language and culture of his new home. Without knowing any Chinese or English, he continued to teach martial arts when living in Hong Kong. One of his students was the American fighter and actor Roy Horan, who first met Hwang on the set of Bruce Lee's Secret (1976). Hwang lived with Horan in Taipei when he first moved to China, and Horan would go on to produce an instructional film to help promote his new sifu's abilities. The Art of High Impact Kicking (1981) is a strange pseudo-documentary which mixes choreographed fight sequences with scenes of Hwang performing straight-to-camera drills in a dojo setting. The variety and creativity in his kicks are extraordinary. He says they were all his idea. "The jumping three kicks, spinning kicks, the flying kicks, that's all me. It's really difficult. Nobody can do it, apart from me." So how did he know he could do them in the first place? "I think, 'if I try one more step, just one more step, then I can do it'. So I did."
I ask him about the Horan documentary but he can't remember making it. I'm not surprised. It came during a particularly prolific phase in his career which Roy Horan believes to be the key to his undoing. Horan told HKCinemagic in 2006 that Hwang's box office had suffered after appearing in so many films, and "some quite poor ones". Hwang's work in the 1980s became increasingly sporadic, despite supporting roles in some huge Hong Kong hits, including Sammo Hung's all-star 1986 eastern-western Millionaire's Express (where he was cast as a Japanese Samurai), and the Michelle Yeoh adventure Magnificent Warriors (1987). He went into TV work, before eventually leaving Hong Kong to return to South Korea. Despite his high impact on screen, Hwang retired in 1996 with more of a whimper than a whirlwind.
But despite the transient nature of fame and fortune, it is Hwang's dedication to the martial arts which has remained. At SENI, he holds a seminar in front of over 50 eager paying customers, and he can still spin and kick in much the same way he always could. He is a technical advisor for the World Tang Soo Do General Federation – an ancient Korean fighting style which predates Taekwondo. Cynthia Rothrock and Chuck Norris are also practitioners. He still trains, he tells me, but now it's all about training the mind. "There is one standard, and if you are over this standard, you can just train your mind and you can do anything," he says. "This is what I call Hwang Jang-lee Martial Arts. It is my principal."
Click here to visit Hwang Jang-lee's official Facebook page. Many thanks to Toby Russell and Rick Baker at Eastern Heroes. Featured image by Spencer Lloyd Peet.