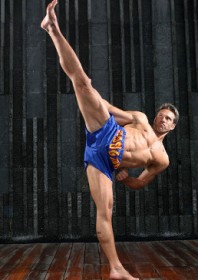 He has worked with Jackie, Stallone, Snipes and Seagal. Now Surrey's favourite high-kicking export is enjoying another Hollywood revival.
KFMG: So, Gary Daniels, are you ever going to come back to England?
GD: I used to come back a couple of times a year. Whenever I was shooting in Europe I would get tickets via England. I've done a couple of exhibition fights for Clash of the Titans over the years, and I came home to be there when Manchester United won the treble in 1999, but I don't really go back much now. When I have free time I go to Thailand where I like to stay in Muay Thai camps and train.
When you left England to pursue a competitive kickboxing career in America, you became an undefeated champion. Was it a tough decision to retire in 1993 to concentrate more on your film work?
I never officially retired from fighting. I just got involved in filmmaking and it kept me busy and was much more lucrative. I have never stopped training. When work slowed down a couple of years ago I was training in Thailand and took a fight on a week's notice just to see where I was at physically and mentally. I ended up losing a five round decision to a guy almost half my age. The technique and stamina was still there, but it was the hunger that was missing: the urge to rip the guy's head off was gone.
Do you need that kind of hunger if you want to succeed as a competitive fighter?
Well, you really need to dedicate your life to it: your personal, social, work and even family life needs to revolve around your training. You obviously have to put in the time in the gym, but it's really your mental focus and your mental strength that will get you through the day to day training, and the set backs from injuries, and the fights themselves.
You seem to be playing a lot of bad guys at the moment. Why is that?
Maybe it's because I'm getting older! Often it's because the good guy needs an intimidating nemesis and I am bigger than a lot of lead actors I work with and can pull it off. But I am working on bigger budget films than I used to and, realistically, the money man will not put you as the lead if your name is not strong enough to recoup his investment.
Being asked to play a bad guy in Sylvester Stallone's The Expendables among such a great cast must have been quite an honour. How did you get involved?
I was contacted by my old friend Chad Stahelski who was the stunt coordinator and he asked if I would be interested in coming onto the project. He said that Sylvester Stallone was looking for someone to play a small part and be thrown into the action scenes without needing a double.
I gave him my reel to pass on to Sly and then I was asked to go meet with Mr Stallone at his office. I met with him and we discussed the project for about 20 minutes and the next day Chad called me to say that Sly liked me and I was onboard.
To be honest, I accepted this before reading the script – this was not an opportunity I would have passed up. Remember, this guy wrote Rocky! The script was constantly changing and evolving as the show went on, and I had such a great experience working on The Expendables.
Mr Stallone really built up my character and added many scenes for me that were not in the original script, but unfortunately they didn't all end up in the final cut – there was a subplot I was involved in that was cut from the film.
I have read a lot of people who have wondered what the atmosphere was like on set, suggesting that maybe there were too many big egos. Well, I will tell you that there were no egos and everyone got along really well. I spent a lot of time with Steve Austin and Eric Roberts as we were in a lot of scenes together and they are two of the nicest, funniest guys you could hope to work with – they were like a comedy double act.
Everyone on this show was very professional. When you are working on a show with so much action, fights and explosions, you can't mess around. I think it helps that we had a lot of fighters on this show as they are all disciplined in their attitude and behaviour. I would regularly see Steve, Dolph [Lundgren], Randy [Couture] and even Eric Roberts in the gym. No one slacked off while filming.
Apparently Steven Seagal was asked to be in the film but refused. You've worked with him [on the film Submerged] – what was he like to work with?
I don't know what Seagal's deal was. I heard he had a conflict of schedules due to working on Machete. I have worked with him. It was definitely not a highlight of my career but you take the good with the bad and move on.
Most kung fu movie fans will remember you fighting Jackie Chan in his 1993 Hong Kong film City Hunter. Was that film as crazy to make as it is to watch?
For me, it was an honour to work with Jackie Chan. It came very early in my career and I was pretty green at the time so I learnt a great deal from him and his team. Even days when I wasn't working, I would go to the set and watch and learn.
The biggest difference [compared to American films] was that we had no script! They were so worried that another company would get hold of their script and produce a rip off that we didn't have one, which made it hard to develop a character and give him a back story. I pretty much played a stereotypical bad guy based on the Hong Kong movies I had seen. So each day I went to work and I had no idea what I would be shooting.
When you filmed a fight scene in the west in the early 90s, they would set up three, four or five cameras and make the actors perform the whole fight sequence several times (which can be exhausting) and then go in for a couple of pick-ups on certain key moments, and then see what they have in the editing room and try to piece it together, like a jigsaw puzzle.
In Hong Kong, the action director will know exactly what he wants as he is the one shooting. [There are] no long masters but a series of mini masters which is much easier on the performers – although sometimes you can expect to do up to 20 takes on one little sequence. This is easier to put together in the editing room as you only need one or two cameras to shoot that way and you don't have all the unnecessary footage to sift through. In recent times I have noticed more fight choreographers doing it the HK way – thank god!
Being cast as Kenshiro, the starring role in the Hollywood adaptation of the Japanese manga Fist of the North Star was a great achievement. What were your thoughts on how this movie turned out?
I was already a fan of the anime so I was quite excited, but at the same time it was kind of daunting thinking about how we could bring the concept to life. Remember, this was made back in 1994 before all the CGI had been developed.
Anytime you try to make an adaptation of a video game or anime you have to make something that will please the hardcore fans and yet make a film that makes sense to people who may have no idea about the source material.  The director was Tony Randel who was from a horror background. He told me he had never done an action film, let alone a martial arts film, so he would rely on me to help shoot the fight scenes. But unfortunately once on the set it was a different story. I had zero say, as often happens.
In Hong Kong, a fight director will have full control of choreography, lenses, angles and eventually the editing, but in the west directors will not hand over their set. Tony really didn't like shooting the fights. He wanted to focus on the love triangle between Kenshiro, Shin and Julia. He felt that this would elevate the film from being just another fighting film. For me, I believe there should be a good balance between action and drama, and then each will complement the other.
On my part, it was a physically demanding film. If you see the anime, Kenshiro is huge. He has a great physique, so I upped my weight sessions and went from 182lbs up to 192lbs – heavier than I had ever been. We worked 16 to 17 hour days in the summer of 1994 on a soundstage with no airconditioning. Temperatures got up to 100 degrees, so it didn't take me long to lose the weight I had gained.
I think Tony had a good vision for the film. It looks and sounds terrific but the fights are not what they could have been. I think if this film was remade today with all the CGI technology available it would be a different film.
Do you have a favourite of your own films?
I tend to like different films for different reasons. In my career there have been highlights and definitely some low points. I have met some great people along the way and travelled the world. I haven't always made the smartest decisions but we all learn from our mistakes. When I think of a film, I don't just think of the finished product but about all the experiences that happened during the production.
City Hunter was memorable, working with Jackie and learning so much from his stunt team, training in Hong Kong with Mark Houghton, hanging out with my good friend Bey Logan. I enjoyed some of the films I did with PM [Entertainment Group] because they had so much frenetic action: [films like] Rage, Riot and Recoil were all a lot of fun. White Tiger was a favourite of mine and Spoiler, a film where I got to play a character that didn't fight. Fist of the North Star was special to me as I got to work with my sifu.
Anytime I get to work in Asia, whether it's Hong Kong, Thailand, Philippines or China, is always special for me. And, of course, The Expendables; getting to work with such a great cast and actually being in a film that gets seen. I hope the best is yet to come.
Can you tell us anything about some of the projects you're currently working on?
I have just finished two films that were part of a trilogy, called The Mark: Flight 777 and The Mark: Bangkok Rising, with Craig Scheffer, Eric Roberts and Sonia Couling, both shot in Bangkok. The third instalment will be shot in Europe this summer. I am about to go to Romania to play the lead in a family drama set against the backdrop of illegal MMA fights.
My goals are as much as they have always been. Whatever I get into I want to be the best I can be. I will continue to train and try to become a better martial artist. I will continue to work on my acting and screen fighting until one day I can hopefully get to star in that $50 million breakout film! Only time will tell. But right now its focus, focus, focus.
www.garydaniels.com
Originally commissioned for Martial Edge. First published 2011.