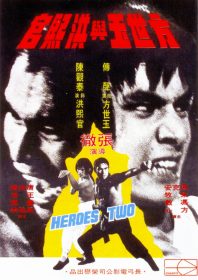 A pivotal moment in kung fu movie history. This is when authentic martial arts fight choreography – rooted in geographic, stylistic and historical truth – replaced the 'swinging arm' aesthetic of Hong Kong action cinema in the late '60s and '70s, thanks to Chang Cheh's go-to fight coordinators, Lau Kar-leung and Tong Gaai. Their genius is brought to the fore here; a move which would ultimately help to secure the look and feel of all subsequent kung fu movies thereafter, and raise the bar in terms of on-screen fight choreography. Their championing of southern Chinese kung fu styles is apparent in an opening 'red background' title sequence which highlights the 'three styles of the Hung school' (Lau Kar-leung was himself a practitioner of the Hung Gar style), performed exquisitely by Chang Cheh discoveries Chen Kwan-tai, Alexander Fu Sheng and Chi Kuan-chun (who, bizarrely, isn't actually in the film, but does appear in its follow-up, Men from the Monastery). This was Chang Cheh's inaugural project for Chonggong (or, simply, 'Chang's Film Company'), his own subsidiary of Shaw Brothers, which allowed him the freedom to pursue a more singular, creative path. Chang quickly set about resurrecting the rebel-rousing stories of the Shaolin patriots who fought the Manchus after the ransacking of the Shaolin Temple in the 17th century – only in his own inimitable, bloodthirsty and masculine way.
This is the first of Chang's so-called 'Shaolin cycle', made concurrently with its follow-up, Men from the Monastery, and detailing the relationship between real-life folk heroes Fong Sai-yuk (Fu Sheng) and Hung Hei-kwan (Chen Kuan-tai). The plight of these characters would have already been familiar to domestic audiences and the Chinese diaspora from their early cinematic exploits; especially Fong Sai-yuk who – much like his folk-hero counterpart, Wong Fei-hung – was featured in a long-running series of films from 1948 to 1955. Fong is a doe-eyed, foppish, white-suited man-boy who barely breaks a sweat when chopping up Manchu bastards with his giant fan. However, he is duped into helping them capture the renegade Shaolin fighter, Hung Hei-kwan; a pained vision in black rags, who is thrown in a cave and tortured until he reveals the names of other anti-governmental resistance fighters. Fong is an absolute mess when he realises what he has done to his hero, and vows to set him free, defeat the Manchu generals and all of their cronies. The finale is all-out carnage and culminates in a very exciting moment when Fong and Hung's fighting styles combine, aptly displaying the physical and political unity between these two men.
Like he had done in the 1960s with wuxia literature, Chang Cheh had once again presented a fresh take on an old story, injecting his customary verve, drama and glamour – especially with the addition of his hot new talent, Alexander Fu Sheng, who was made an overnight star in a role he would go on to inhabit in a number of other films. Anyone looking for exciting, non-stop kung fu fighting, this one's a must.
AKA: Blood Brothers; Bloody Fists; Fang Shih Yu and Hung Hsi Kuan; Kung Fu Invaders.