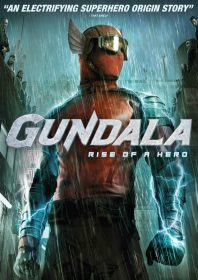 Big-screen outing for Indonesia's favourite comic book superhero, Gundala – the 'Son of Lightning', inspired by DC Comics' The Flash and created by Indonesia's answer to Stan Lee, the late Harya 'Hasmi' Suraminata. Writer-director Joko Anwar approaches the subject matter with the same dystopian, foreboding seriousness as Christopher Nolan's Batman films; in particular, The Dark Knight, not just stylistically, but also in terms of its anarchic characters and bleak setting, with Jakarta stepping in for Gotham City complete with its atmosphere of lawlessness, class division and broiling social unrest. Gundala embodies the spirit of the underdog, born into a divided world in which the poor are exploited and corruption rules.
As a boy named Sancaka, his father is killed during a workers revolt and his mother absconds, leaving him to survive on his own as a street kid in the urban sprawl of Jakarta. He learns a spot of kung fu from his only friend, a fellow street kid called Awang, before he also absconds. The film then skips to Sancaka as an adult working as a security guard at a factory where he again becomes embroiled in another workers revolt. When it becomes apparent that he can control and harness the power of lightning – obtaining super-strength and emitting electric charges from his body – the meek Sancaka starts to embrace his superhero alter-ego and steps out of the shadows. His nemesis is another troubled orphan who has since become a criminal kingpin with his own army of assassins. Unlike Gundala, Pengkor has turned his anger onto society. He develops a bizarre ploy to poison pregnant women into making a whole generation 'immoral', but quite what 'immoral' means in this context is particularly unclear and confounds the film's sense of jeopardy.
The film also suffers from strange pacing issues resulting in some sections being more effective than others. The childhood section at the start is well-observed, dramatic and emotive, and the camaraderie between the workers and Sancaka as he discovers his powers is affectionate and nuanced. But there is a harried approach to some parts of the story which leaves characters underdeveloped and, in some cases, simply abandoned. The inclusion of subplots and new faces at late notice makes the story frustratingly disorientating, and have been added purely as a calculated exercise in setting up the sequel. Interestingly, considering the film is based within the realms of fantasy, most of the action is deeply rooted in realistic hand-to-hand combat, choreographed by real-life silat master and martial arts star Cecep Arif Rahman – albeit lacking the visceral crunch and wince-inducing moments you might expect to find in more R-rated Indonesian fare from directors like Gareth Evans and Timo Tjahjanto. The fight scenes are a refreshing tonic to the more CGI-laden smash-'em-ups you find in Marvel films. More rewarding is seeing a country like Indonesia – not known for its glossy, big-budget, high-concept cinema – punching way above its weight in terms of producing the kind of popcorn movie that could easily stand up against any of your standard Hollywood blockbusters. It's far from perfect, but it's an audacious and valid effort.
Gundala is available on digital, DVD, Blu-ray Combo and 4K Ultra Blu-ray Combo in North America on 28 July 2020 from Well Go USA.