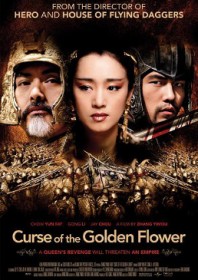 Zhang Yimou's wuxia trilogy concludes with perhaps his most meticulous instalment, with visuals so striking you may need sunglasses to deflect the glare. Unfortunately, once Zhang hit upon his golden formula with instant classics Hero and House of Flying Daggers, stunning cinematography has become de rigueur. Most of the sweeping shots are done on computers, along with much of the trickery in the battle scenes. Hero utilised CGI to a minimal and aesthetic effect. Here, Yimou is seemingly growing more dependent on digital tampering to create huge vistas of perfect symmetry in an attempt, possibly, to mask what is essentially a soap opera of daytime TV proportions about a sordid family secret brewing inside the Forbidden City.
It is revealed that surly Emperor Ping (Chow Yun-fat) is slowly poisoning his unstable wife, Empress Phoenix (Gong Li), so their second son forms his own Imperial army to mount a scathing, vengeful attack on his own father. The Emperor, a serial adulterer, is suspicious of his wife's intentions toward his eldest son, the Crown Prince (Lau Yip), who has feelings for his stepmother. The Empress coins a plan to take down her hubby and run off with his son during the Chrysanthemum Festival.
This discomforting thought is made all the more intriguing when the blood mother of the Crown Prince is revealed to be alive and well, if slightly sore, following her banishment from the Royal Palace at the hands of the Emperor. Then it is revealed the Crown Prince has been sneaking off and having liaisons with his mother's young daughter, who is (of course) his own sister! All is revealed in a catastrophic battle of bright colours and heavy armour, until you're so disgusted by all the characters you don't really care who snuffs it.
AKA: Autumn Remembrance; City of Golden Armour