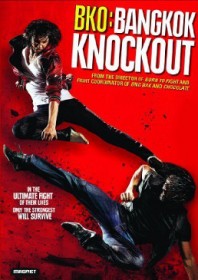 Innovative head kicking and insane stunts abound in this relentless Thai fight film from Panna Rittikrai, the genius behind Born to Fight and the Ong-Bak franchise. This, like Rittikrai's other post Ong-Bak exploits, suffers from a genuine lack of star presence and relies on an ensemble cast to deliver the exuberant action set pieces. All of which are quite sublime, if a little too close to exhibitionism, like the sort of thing you might find on a TV talent show.
Indeed, the film's main conceit involves this premise, where two rival combat collectives are pitted against each other to impress a panel of Thai and American movie producers. Their dreams of Hollywood suffer a rude awakening when the winning fight club are drugged by the catering staff at their celebration party (the head chef is played by Rittikrai himself) and wake up in an abandoned house of traps, where murderous masked assassins kidnap one of their friends and force the team into battle.
What starts as The Hangover turns into The Running Man as the obligatory obnoxious American producer reveals himself to be a top international gambling kingpin who has rigged cameras around the compound to film the team as they fight for survival, placing bets on the outcome while the fighters endure a succession of gruelling battles against axe-wielding psycho killers and kickboxing transvestites.
You could drive a bus through the plot holes but the flimsy premise is only a mildly distracting platform upon which to hinge a series of gob-smacking action sequences. As we've come to expect from Rittikrai, the choreography is never far from faultless: fast and full contact, each punishing, acrobatic exertion is lovingly captured in slow motion with fluid editing helping to really celebrate the head-scratching dexterity of the highly trained cast. For example, the final battle involves one of the film's default heroes fighting underneath a speeding truck. Yes, it's that sort of movie.
AKA: B.K.O.: Bangkok Knockout