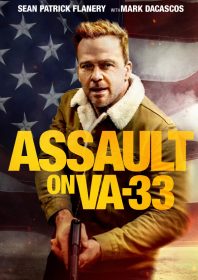 "Nothing ever happens in sleepy Oakside," says police chief Michael Jai White, returning to his sudoku. Meanwhile, a Russian terrorist (played by Weston Cage Coppola, son of Nic Cage) and his group of hired goons have broken into a veterans' hospital where a high-profile general is seeing his shrink – they plant bombs in the building, hold the general and the patients hostage and start demanding ransom money. But wait, the Die Hard references don't end there. There's a Bruce Willis in the building in the form of Sean Patrick Flanery, an ex-soldier with PTSD whose doctor wife is one of the hostages. He starts picking off the terrorists while communicating to the police chief via a phone – just like Sergeant Al and John McClain. This plays like a series of action movie cliches, and unfortunately, it doesn't even deliver on the promise of its strong cast. Mark Dacascos is present, but only in a very minor role as a sniper and a kung fu opponent in a rushed one-on-one with Flanery. White is as affable as always, but it's mostly a non-action role. Flanery makes for a convincingly weathered, hunky leading man, but let's not kid ourselves, no one is stretching too far from their comfort zones in what is a very generic film.
AKA: Assault on Station 33.
Watch on Amazon Prime (UK) and Virgin TV Go (UK).