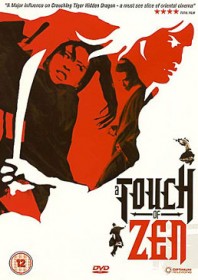 An exhilarating watch, King Hu's epic masterpiece A Touch of Zen is potentially his best work, the first Chinese language film to win a top prize at the Cannes Film Festival. Full of trademark wuxia thrills and exuberant free-falling heroes and heroines, the film's eerie cinematography and steady, provocative pacing is enough to make this one a genuine Hitchcockian classic.
Based on the ghost stories of early Ching dynasty writer Pu Song-ling (whose novels were also adapted for A Chinese Ghost Story), King Hu spins an involved and enriching tale far beyond the creepy hauntings at Du Ling Fort. The drama focuses on the plight of political refugees hiding from the Dongchang (security agency) who have occupied the neighbouring home of a middle aged artist named Ku (Shih Chun).
Pestered by his mother to find himself a wife, Ku falls for the resistance leader (played by the wonderful Hsu Feng) – a gifted knight lady whose family were killed by the Dongchang, and Ku is summarily pulled into the equation.
But this is no mere revenge fable, as Hu adds a distinct flavour of Buddhist mysticism to proceedings by involving the character of Hui Yuan (Chiao), an almost supernatural deity figure who tries to turn his back on the troubles of the secular world before deciding on assisting the fleeing refugees.
Hu goes so far to depict Hui Yuan as Buddha incarnate, judging by the film's last and most memorable scene. A treacherous Dongchang official (Han Ying-chieh) stabs the monk, leaving him sitting in the lotus position, silhouetted against the sunset, bleeding gold…
And let's not forget the swashbuckling martial arts action that will have you jumping clean out of your seat. A bona fide classic.