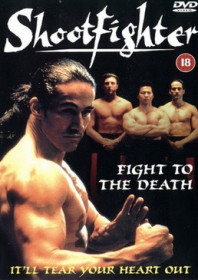 Shootfighting is a Japanese-American derivative of shoot-wrestling and is now regarded as something of a forerunner to modern day mixed martial arts (MMA), being both a hybrid style and a full contact sport. This film takes the 'no rules' concept one step further to include weaponry in the ring during the final tournament sequence – nunchakus, swords, a three-sectioned-staff and so on – resulting in some pretty grisly exploitation scenes of throats being cut open and hearts removed.
The film borrows its narrative set-up and oiled torsos from Bloodsport – not to mention a lot of other great tournament B-movies – charting the chequered journey of buddies Ruben (Zabka) and Nick (Bernardo) who volunteer to take part in a highly lucrative series of underground cage fights organised by crooked kingpin Mr. Lee (Kove, the baddie from The Karate Kid movies). Ruben turns from a studious karate coach with a steady British girlfriend (played by a former Bond girl, Maryam d'Abo) into a hot-tempered street thug as he descends deeper into the shootfighting scene. Former tearaway Nick, however, becomes somewhat enlightened by the selfless tai chi teachings of their shared LA sifu, Shingo (Bolo Yeung), who harbours his own long-running feud with Mr. Lee.
It's nothing if not predictable, and mostly noteworthy for being the first US production in which Bolo Yeung was cast as the good guy. He almost seems saintly as he distributes donuts to children, even if his dramatic acting is reduced to mostly grunting, hand gestures and wild blinking. He is evidently more comfortable when breaking bones in the ring which is where most of this movie takes place.
AKA: Shootfighter