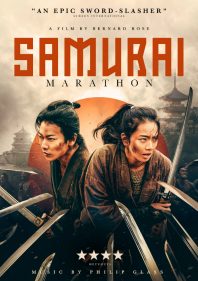 Inspired by true events, this Edo period drama – based on a 2014 novel by Akihiro Dobashi – tells the origin story of the so-called 'Samurai Marathon', which takes place annually in the city of Annaka, Japan. The arduous running competition – in which many of its participants adopt feudal-inspired fancy dress – was created by Annaka clan leader, Lord Itakura, during the twilight years of the shogun as a means of training his samurai to be prepared for impending battle. But the film is far removed from your typical underdog sports movie, and the marathon itself is used as a narrative smokescreen to expand on Japan's wider political and societal context during a transitional time in its history.
The British director of Candyman, Bernard Rose, packs his film with characters, each guided by complicated motives. Lord Itakura (Hiroki Hasegawa) is shown to be a neurotic, impulsive leader who fears that the shogun in Edo will abandon Japanese traditions of isolationism in a bid to trade with the west, exposing themselves to foreign invasion, as symbolised by the ominous 'black ships' carrying cargo including whiskey, pornography and guns to their shores. Princess Yuki (Nana Komatsu) is his daughter, destined to provide Itakura with a male heir. However, Yuki is fiercely independent, and escapes her regal confines to pass as an ordinary foot-soldier in a bid to enter the race and prove herself beyond the restrictions of her sex. And then there is Jinnai (Takeru Satoh), a ninja spy loyal to the shogun, who passes as an accountant in the Annaka clan. He mistakenly informs Edo that Itakura is planning to launch an attack on the shogunate, who respond with an ambush in Annaka on the day of the marathon, storming the village with freshly traded American revolvers. Jinnai must decide whether he remain loyal to the cause or protect his new-found friends and family.
This ongoing battle between traditionalism and modernism is a resonate topic in Japanese society even today, and it is displayed here with a learned sensibility. The story – like all good samurai films – culminates in a big brawl; grounded, ruthless and bloody. The luscious backdrops, sets and costumes brim with sumptuous period detail, and Phillip Glass' effective classical score is reflective of the age. It falters slightly during some of the offbeat comedic moments, which seem at odds with the mostly serious tone, and you may need a notepad during the exposition-heavy first act to keep on top of what's going on. But as history lessons go, this is quite an enjoyable one.
AKA: Samurai Marathon 1855.
Samurai Marathon is available now on Amazon Prime in the UK courtesy of Signature Entertainment.