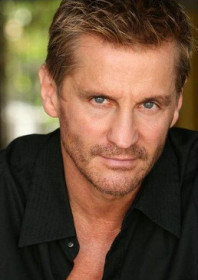 "My purpose in life is to empower kids. The acting, the writing, the producing, that's the icing on the cake – that's the fun stuff."
Here's a real treat for fans of competitive kickboxing and martial arts movies, as I have a conversation with former world champion Jerry "Golden Boy" Trimble. Kentucky-born Trimble took the kickboxing world by storm in the 1980s by winning four consecutive world championships before embarking on a highly successful film career. His debut feature was alongside Jet Li in Tsui Hark's The Master, before taking starring roles in a number of action films produced by the king of exploitation cinema, Roger Corman. In 1995, his acting career took a different turn when he landed a key supporting role as a detective alongside Al Pacino in Michael Mann's classic crime film, Heat.
On this podcast, you will hear from Jerry about his time on the set of Heat where he received first-hand acting advice from Al Pacino. Jerry also discusses how he accidentally hit Yuen Wah in the face while filming The Master, as well as the origins of his 'Golden Boy' nickname, the pitfalls of fame, the time he fought on screen with Tom Cruise and Drew Barrymore, and also the wisdom he has learnt from a life in the limelight. On top of his acting and stunt work, Jerry is also a youth speaker and runs his own Trimble Talks program, instigated on the advice of his father-in-law, the former Monkees band member Micky Dolenz. And, according to Jerry, none of this would have been possible if he hadn't stumbled into a movie theatre at the age of 12 to watch a Bruce Lee film.
Jerry Trimble lives in Vancouver, Canada, where he continues to work in TV and film. Follow him on Twitter, @JerryTrimble, and find out more by visiting his website, jerrytrimble.com. Thanks again to George Dennis for his technical support.