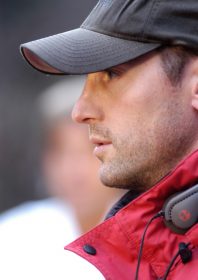 Date of birth: 14 January 1970 (Sun Valley, Idaho)
Occupation: Stunt coordinator, second unit director, action director, stunt performer, actor.
Style: Taekwondo
Biography: Brad Martin is a stunt coordinator and stunt performer who helped to create Smashcut Action Design alongside Chad Stahelski, David Leitch and J.J. Perry, before the creation of 87eleven Action Design.
Brad Martin grew up in Sun Valley, Idaho. His early passions were alpine skiing and martial arts. He has a black belt in taekwondo and also competed. He watched the American reality show, That's Incredible!, as a child and dreamed of becoming a stunt performer. He struck a deal with his father to finish his education before pursuing a career in the movies. When he graduated from the University of Washington in 1992, he took a year out, and decided to make the move to Los Angeles to pursue a career as a stunt performer.
After a number of small stunt roles, his big break came on the film, Batman Forever (1995), doubling Chris O'Donnell as Robin in an acrobatic sequence inspired by Yuen Biao in Dreadnaught (1981). Stunt coordinator, Conrad "Connie" Palmisano, and the director, Joel Schumacher, liked his work, and Brad ended up training Chris O'Donnell as well as playing one of Tommy Lee Jones' thugs.
Conrad asked Brad to work as his assistant on the film, The Peacemaker (1997), believing that Brad would make a good stunt double for the film's star, George Clooney. Brad would go on to become Clooney's regular stunt double, working on the films Batman & Robin, The Perfect Storm, Three Kings, Out of Sight and O Brother, Where Art Thou?. Along with Batman, Brad has also doubled for other superheroes, including Ben Affleck in Daredevil and Toby Maguire in Spider-Man 2.
He also started to work with fellow martial artists and stunt performers J.J. Perry, David Leitch, Chad Stahelski and Marcus Young, including the films Bloodsport III (1997) and True Vengeance (1997), where he also acted as fight choreographer. The also worked on the Sammo Hung TV series, Martial Law. When Chad was the stunt coordinator on The Matrix sequels – The Matrix Reloaded (2003) and The Matrix Revolutions (2003) – Brad doubled for Hugo Weaving, working alongside Yuen Woo-ping and the Hong Kong stunt team. The fight which ends Reloaded between Neo and multiples of Agent Smith took 17 days to shoot. Brad was also heavily involved in the 'chateaux' fight scene, along with David Leitch and Tiger Chen.
Since the early 2000s, Brad began focusing on stunt coordinating, action directing and action design. He is best known for his work designing, coordinating and directing action units in the Underworld action horror series, starring Kate Beckinsale. Brad has also stunt coordinated on many Hollywood blockbusters, including Live Free or Die Hard, Tropic Thunder, The Other Guys and The Expendables 3. In 2008, Brad was named 'Best Stunt Coordinator' at the Red Bull Taurus Stunt Awards for his work on Live Free or Die Hard. In 2021, he stunt coordinated his first TV series, The Falcon and the Winter Soldier, starring Anthony Mackie and Sebastian Stan.
In 2021, Brad relaunched Smashcut Action Design, an action consultancy business.
Speech! "When you bring us in, you're bringing in not just someone who is going to make the action safe, but – if you bring in the right stunt coordinator – you're bringing in someone who is on the cutting edge of what's hot in action, and how to take that and translate it into the best possible product you can have. When the production is not allowing that person to have the say that they should have, they're missing out on huge opportunities." In conversation with Kung Fu Movie Guide Podcast, 2021.
Click here to listen to KFMG Podcast S06 Episode 74 with Brad Martin.
Filmography (as stunt performer/stunt coordinator): 1990 Beverly Hills, 90210 (TV); 1992 Melrose Place (TV); 1993 Diagnosis Murder (TV); 1994 Naked Gun 33 1/3: The Final Insult; 1995 Batman Forever; Mortal Kombat; JAG (TV); The Feminine Touch; 1996 Escape from L.A.; The Pretender (TV); Profiler (TV); Alien Nation: The Enemy Within; 1997 Bloodsport III; True Vengeance; Spy Game (TV); Batman & Robin; Conspiracy Theory; Orgazmo; Michael Hayes (TV); Cracker: Mind Over Murder (TV); The Peacemaker; Alien: Resurrection; Timecop (TV); 1998 Prey (TV); Surface to Air; Out of Sight; Lethal Weapon 4; Charmed (TV); The Assault; Venus on the Hard Drive (TV); Hot Dog; Walker, Texas Ranger (TV); Martial Law (TV); 1999 Running Red; Three Kings; Angel (TV); 2000 The Huntress (TV); O Brother, Where Art Thou?; Bad Seed; The Perfect Storm; Charlie's Angels; 2001 Black Scorpion (TV); No Such Thing; American Pie 2; Rock Star; Zoolander; Ocean's Eleven; 2002 Deuces Wild; Austin Powers in Goldmember; CSI: Miami (TV); Red Dragon; The Ring; Confessions of a Dangerous Mind; 2003 Daredevil; The Matrix Reloaded; The League of Extraordinary Gentlemen; S.W.A.T.; Underworld; The Matrix Revolutions; 2004 In Enemy Hands; Dawn of the Dead; Spider-Man 2; After the Sunset; NYPD 2069; 2005 The Chumscrubber; Constantine; The Ring Two; xXx: State of the Union; Mr. & Mrs. Smith; Serenity; 2006 Underworld: Evolution; Poseidon; 2007 Spider-Man 3; Live Free or Die Hard; Whistler (TV); 2008 Desperate Housewives (TV); Tropic Thunder; Four Christmases; Numb3rs (TV); 2009 The Big Bang Theory (TV); Pushing Daisies (TV); Fast & Furious; Revenge of the Boarding School Dropouts; Angels & Demons; Lost (TV); Couples Retreat; 2010 Dexter (TV); Hawaii Five-0 (TV); The Expendables; The Other Guys; Salt; Jonah Hex; Burning Palms; Parenthood (TV); Medium (TV); The Book of Eli; 2011 Abduction; Water for Elephants; Soul Surfer; 2012 Total Recall; Safe; Underworld: Awakening; 2013 Homefront; Oldboy; After Earth; Parker; 2014 Night at the Museum: Secret of the Tomb; The Expendables 3; 2015 Wild Card; 2016 The Great Wall; Underworld: Blood Wars; Batman v Superman: Dawn of Justice; Hail, Caesar!; Zoolander 2; 2017 The Hunter's Prayer; 2019 Tom Clancy's Jack Ryan (TV); Gemini Man; 2020 Greenland; Bad Boys for Life; 2021 The Falcon and the Winter Soldier (TV); 2022 Avatar 2; Distant; 2023 Dungeons & Dragons.